HSBC offers a wide range of credit cards for UK residents coming from all walks of life. With these HSBC credit cards, cardholders not only get the chance to earn numerous rewards points, but they can also gain access to reliable cards for everyday needs.
Whether you are interested in transferring your credit card balances, building your credit score, or simply want the flexibility that comes with having a credit card, HSBC credit cards are worth having in your arsenal.
Interested in getting an HSBC credit card for yourself? Here's what you need to know before applying today.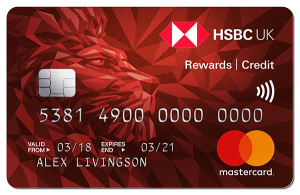 Benefits & Features of HSBC Credit Cards
HSBC boasts of its extensive credit card collection designed for a variety of needs. Under it, the company takes pride in giving consumers 7 Visa- and Mastercard-powered credit cards made to match any and all types of lifestyles.
The comprehensive collection includes the Balance Transfer Credit Card, the Classic Credit Card, the Premier Credit Card, the Premier World Elite Mastercard, the Purchase Plus Credit Card, the Rewards Credit Card, and the Student Credit Card.
One of the main benefits of owning HSBC credit cards is having absolutely no annual fees, with the exception of the Premier World Elite Mastercard being priced at £195 per year.
Besides this, HSBC credit cards also offer unparalleled rewards, such as cashback rewards via their home&away programme, exclusive Mastercard and Visa offers, global discounts, and many more. In particular, the Rewards Credit Card allows owners to earn 1 point for every eligible £5 spent on their account. Bonus points and anniversary points will also be rewarded to cardholders of these accounts.
HSBC Credit Card Offers
Most of the HSBC credit cards have limited promotional offerings for interested first-time cardholders. For their Balance Transfer Credit Card, users are entitled to get 0% interest on purchases for 3 months. The same offer applies for the Rewards Credit Card; however, the promotional period is extended to 6 months. For the Purchase Plus Credit Card, this offer goes for 18 months, and it's 9 months for the Premier Credit Card.
After the initial promotional period, the 0% interest offer on purchases and balance transfers will revert back to the original rate.
HSBC Credit Card Balance Transfer
For individuals who want to consolidate their debts and balances into one banking facility, the HSBC credit cards are guaranteed to accommodate your needs. Most credit cards under HSBC – such as the Balance Transfer Credit Card, Rewards Credit Card, Purchase Plus Credit Card, and the Premier Credit Card – already offer a 0% interest rate ranging from 6 to 25 months, making debt consolidation easier and more affordable than ever before.
After the promotional period, balance transfer rates will also revert to the standard variable rate, as is common with most credit cards.
For individuals who are particularly looking for a credit card geared towards balance transfers, the Balance Transfer Credit Card will allow you to take control of your finances. Besides offering balance transfer facilities, the card also provides cashback rewards at no extra cost.
Eligibility for HSBC Credit Cards
For UK residents interested in applying for HSBC credit cards, passing the eligibility requirements is a must prior to being considered for a credit card. To do this without affecting your credit rating, feel free to undergo the complimentary eligibility check found on their website.
Some of the main requirements for applicants include being a UK resident, being over the age of 18, and having an annual income or pension before tax of £8,500 or more. In addition, applicants should not have a basic HSBC bank account with the institutions already. Applicants should also be in good financial standing and must not have declared bankruptcy.
HSBC may ask for additional documents and information to be submitted at the bank's discretion. These documents include proof of residency, proof of employment, salary information, and other personal information.
Application Process
Credit card applications for HSBC credit cards can be coursed online. Go to the HSBC website and choose a credit card, then simply fill out the application form to jump-start your application. When filling out the online application form, you will be asked to provide your personal information, address, employment details, financials, and many more.
Other application methods you can undertake include applying at a branch near you or calling HSBC's customer service hotline.
Activation Process
The processing time for HSBC credit cards can take as little as 5 minutes. To activate your card, you can easily call the banking institution through their hotline or by logging in through their online banking facility.
To activate your credit card via hotline, you may reach the bank at 0800 3281 370. Should you prefer online banking activation, you may key in the login details provided and follow the instructions given by the bank.
What Limits Are Offered?
Bear in mind that HSBC credit card limits vary from one type to another. Apart from this, the credit limit will be determined by the bank based on your financial background, capacity to pay (creditworthiness), and a host of other factors. While the credit cards have an assumed limit of £1,200, the minimum credit limit can go as low as £250.
HSBC Credit Cards: The Numbers
Representative Variable APR – Balance Transfer and Rewards Credit Card: 21.9%; Purchase Plus Credit Card: 22.9%; Classic Credit Card: 29.9%; Premier and Student Credit Card: 18.9%, Premier World Elite Mastercard: 59.3%.
Balance Transfer Interest Rate – Balance Transfer and Rewards Credit Card: 21.9% to 24.9%; Purchase Plus Credit Card: 22.9% to 25.9%; Classic Credit Card: 29.9%; Premier Credit Card, Premier World Elite Mastercard, and Student Credit Card: 18.9%
Annual Fee – No annual fee, except for the Premier World Elite Mastercard which is valued at £195
Cash Advance Fee – 2.99% of the amount (minimum of £3)
Foreign Cash Transaction Fee – 2.99% of the amount (minimum of £3)
Late Payment Fee – £12
Over Credit Limit Fee – £12
The App & Online Banking
HSBC provides a unique mobile credit card app and an online banking facility for cardholders. These can be downloaded through Google Play or the Apple Store. Through these facilities, cardholders can stay on top of their finances by gaining access to mobile statements, secure log in transactions, easy balance and banking transfers, and mobile cheque deposits.
To access your account, simply download the app and enter your login details.
Already an HSBC Credit Card Holder?
Below is some additional information on how you can better manage your credit card.
HSBC Address, Contact Details, and Customer Service
What's great about banking with HSBC is having the ability to course your concerns via their customer service in real-time.
For all questions and concerns, you may check out their Frequently Asked Questions (FAQs), talk with a representative via Live Chat, or directly call the bank through their customer service at 03457 404 404 (HSBC customers) or 03456 040 626 (non-HSBC customers) from 8 am to 10 pm every day.
For other urgent concerns, HSBC UK has 2 main addresses in the UK: one is located at 1 Centenary Square, Birmingham, while the other is located in 8 Canada Square, London.
HSBC Online Login
To login via the HSBC app or through online channels, key in your username and information. You will be redirected to the main page, where you can click on the purpose of your visit.
HSBC Credit Card Payment
To make your monthly payments, you may choose to pay online or have payments be automated through your app. The minimum repayment balance is 2.5% of the amount, with a minimum of £5.
How to Cancel Your HSBC Credit Card
Should you express disappointment over your current HSBC credit card, you may immediately cancel your credit card through the bank's secure messaging service found on the online banking facility. Otherwise, you may cancel your account by going to a branch near you or calling the company hotline.
Conclusion
HSBC credit cards are suited for a variety of individuals, from students to millennials, fresh graduates, and even entrepreneurs. With the wide range of benefits that come with these cards, such as the cashback offers and rewards points, owning one will certainly allow you to get the financial flexibility you deserve.
Disclaimer: All credit products carry risk. Be aware of these risks by reading the associated terms and conditions.