Looking for a credit card that can help you spread the cost of your large expenditures? How about one that guarantees easy payment?
With the MBNA Purchase Credit Card, you can now enjoy these perks and many more. In addition, this card is powered by Mastercard, so you will also reap all the benefits of being a Mastercard cardholder.
If you would like to learn more about this card, follow this article. Everything you need to know about the MBNA Purchase Credit Card is below.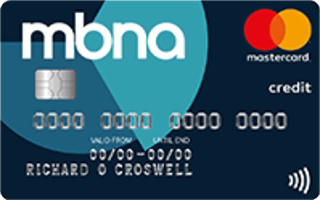 What the MBNA Purchase Credit Card Offers
The MBNA Purchase Credit Card offers a broad range of promising features. One is that you can keep track of your card using mobile and online devices. It also enables you to contact the bank's call center anytime, anywhere, if you have any inquiries about the card.
Cardholders can save with this card in several ways. First, there is no annual fee associated with this card. In addition, this card offers a long, promotional 0% interest rate on purchases. If you have some big expenses coming up, this card could come in handy. The promotional interest period will give you time to gather the find necessary to make payments.
As a bonus, the card doesn't hold you liable for transactions that are proven to be fraudulent. As long as you inform the bank immediately in the event of any unusual transaction or missing card, you will not pay a cent. Plus, there is no replacement fee for this card.
Downsides of the MBNA Purchase Credit Card
One disadvantage that comes with the MBNA Purchase Credit Card is that it offers a balance transfer fee of 2.69% for the first 2 months, then goes to 5. This makes it difficult for users to transfer balances to other cards or move money to their bank account whenever they need to. Though is rate is not uncommon, it is higher than what some other cards offer.
Another downside of this card is that you cannot see many of the card's details by simply visiting the website. You have to provide personal information in order to find out what offers are available to you.
Important Details
The MBNA Purchase Credit Card offers savings by having no annual fee. However, the card has a 20.9% representative APR, a 2.69% fee for 2 months before reverting to 5% for Balance Transfers. It also provides 4% interest for 12 months, which then reverts to 5% for Money transfer fees. This APR rate, in particular, is a bit higher than what other banks may offer. Although, it can be dependent on your credit score.
In case of late payments, the bank will charge you with £12 as a late payment fee. It also charges £12 in fees for exceeding your credit limit.
Eligibility & Application
In order to apply, the MBNA requires that you must be a UK resident, aged 18 or above, have a regular annual income, should not be unemployed or a student, and must be free of County Court Judgements (CCJs), Individual Voluntary Agreements (IVAs), or bankruptcies. The bank also requires that you provide your main bank account number and sort code.
You can also you the bank's handy tool, Clever Check, to quickly see what credit cards you are a good fit for. This tool will require some of the above information and will easily match you with credit card offers that suit you.
To start your application, you can simply visit the official MBNA website and login to your account. You can also choose to visit the nearest MBNA branch in your area and bring the required documents for the application.
If you have any inquiries, you can get in touch with the bank through 03456 062 062 (or +44 1244 659 005 from outside the UK). They can also be reached at 0330 678 1430 (8 am-10 pm 7 days a week) when your inquiry concerns loans.
What Next?
Overall, the MBNA Purchase Credit Card features a number of benefits you should definitely check out. Aside from its 0% long promotional offers on card purchases, the card also enables you to keep track of your credit transactions through mobile and online platforms.
Disclaimer: All credit products carry risk. Be aware of these risks by reading the associated terms and conditions.