What could be better than earning cash rewards on your day-to-day spending? Whether it be for small buys or large purchases, having a reliable credit card that will let you earn as you spend is a must-have for all shoppers.
Fortunately, with the Barclaycard Platinum Cashback credit card, you can enjoy cashback on your spending. Offering a 0.25% cashback rate until 2023, the card is great for consistent spenders. With no annual fee and unmatched security, the Barclaycard Platinum Cashback card stands as one of the best options for any customer on the market.
Want to know more about this card? Check out what there is to love and hate about the Barclaycard Platinum Cashback credit card below.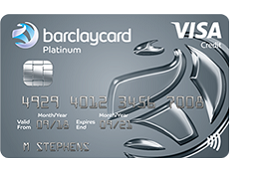 What You'll Love:
The Barclaycard Platinum Cashback credit card is a great choice for anyone looking for ways to maximize their credit. Performing as a cashback card, it will let you earn 0.25% cashback on all your spending until August 31, 2023. At this rate, the benefits can build up quite nicely just from everyday spending.
Moreover, the credit card also offers protection on your purchases of over £100. With this card, you can feel secure about your big purchases.
The card will let you buy tickets for up to 3,500 selected live events through Barclaycard entertainment. Also, it will give you 5% off tickets per year. You can also access exclusive pre-sale tickets on selected festivals with 10% off ticket prices.
As a bonus, Barclaycard Platinum Cashback cardholders are also not subject to any interest for ATM withdrawals abroad, as long as they pay their full balance on time. This benefit is a huge plus for frequent travelers.
What You'll Hate:
Although the Barclaycard Platinum Cashback Credit Card features a range of excellent benefits, the card's high-interest rate of 27.9% variable on cash withdrawals remains to be its chief downside. Furthermore, the card does not offer a no-interest period on balance transfers. This makes it a big no-no for those who often engage in a balance transfer between cards.
Want to Apply?
To apply, Barclaycard has a list of requirements all applicants must meet. In order to see if you qualify, visit the Barclaycard website, find the credit card of your choice, and click on the "Check your Eligibility" button usually located at the header of the page.
From there, you will answer a few questions, including some queries concerning your employment, address, and expenditure. After answering the questions, the bank will review your answers and will tell you how likely you are to be accepted.
If you meet the card requirements, simply click on the "Apply Now" button within the website. On the other hand, you can complete an in-bank application by stopping by your local Barclaycard branch.
Conclusion
Overall, the Barclaycard Platinum Cashback credit card is a valuable card for those who are looking for ways to earn while spending. Despite its downsides, its 0.25% cashback rate still presents a great perk that no one should miss out on.
If you want to know more about the card, feel free to contact the bank at 0800 151 0900. Customers who will be calling from abroad can also reach the bank at +44 (0)1604 230 230.
Note: There are risks involved when using a credit card. Please see the bank's Terms and Conditions page for more information.