Today, there are so many credit cards out there to choose from; it can be difficult to know where to start. However, people in search of a rewarding card might want to look at what the Chase Freedom Credit Card has to offer.
Chase is a well-known, reputable credit card company, and for good reason. They provide an excellent range of great credit cards. Further, the Chase Freedom Credit Card is one of the most valuable offers by Chase.
Are you interested in what this card has to offer? Keep reading below to learn more about this card and decide whether it is right for you.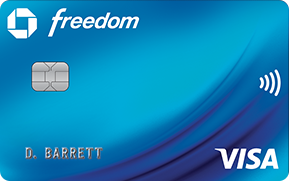 What's Great About the Chase Freedom Credit Card
The most important feature of the Chase Freedom Credit Card is its cashback program. This card allows you to earn 5% cashback for purchases amounting to $1,500 in bonus categories for each quarter that you use your card. You can also earn an unlimited 1% cashback on all other purchases.
With these offers, it is easy to rack up a nice bundle of rewards. Further, these cashback rewards will not expire. This means that you can keep accumulating more rewards without being compelled to redeem what you already have. During redemption, you also do not have to worry about a minimum redemption amount.
One of the advantages of this card is the $150 bonus given to cardholders when they have spent $500 on any purchase. However, this is only applicable within the first 3 months after opening the account.
In addition, the bank also offers a relatively low APR when you apply for the card. In fact, the introductory APR is 0% for the first 15 months from your account opening.
Cardholders can have an annual percentage rate of 17.24% to 25.99% variable. This APR can fluctuate depending on the Prime Rate that prevails in the market. The card does not have a minimum interest charge.
The Chase Freedom Credit Card minimizes fees by eliminating the annual membership fee. However, keep in mind that the bank charges penalty fees, such as late payment fees. However, this is the common practice amongst all banks.
What's Not So Great
As mentioned, the Chase Freedom card offers a 5% cashback bonus. However, keep in mind that this is only applicable if you earn your bonus every quarter before the deadline. Moreover, your rewards will not expire, but it is important to remember that you can lose all of your accumulated cashback if your account status changes or if the account is closed due to misuse, fraud, failure to pay, bankruptcy, and other similar reasons.
How to Use Your Cashback Rewards
As mentioned above, your cashback rewards will not expire. This means you can keep accumulating rewards until you decide you want to spend them, with no penalty. However, since you do not need a minimum amount to redeem your rewards, you can also redeem them as soon as you want.
To redeem your rewards, you have several options. First, you can receive them as either a statement credit or direct deposit into your bank account. Another option is to link your card with your Amazon account to pay with your rewards at checkout.
Cardholders can also redeem rewards by using them to purchase gift cards for a variety of shopping, dining and entertainment options. Lastly, cashback rewards can be redeemed for travel. Cardholders of the Chase Freedom card can use Chase Ultimate Rewards to access competitive rates.
How You Can Apply for the Chase Freedom Credit Card
Only people who are 18 and above can apply for this card. Before your application is approved, the bank will evaluate your employment, income, and financial status. As such, you will need to submit your gross annual income amount, along with other document requirements.
To start your application, you can simply fill out an application, which can be found on the Chase Bank website. You will need to provide identification, contact information, and financial details.
The bank will base your credit limit on your creditworthiness. Depending on the results, your credit limit can be anywhere between $500 to $5,000. If you get a low limit to start, you can always increase your limit over time by using your card responsibly.
To get in touch with the bank, you can reach their customer service representative at 1-800-432-3117 or mail them for general correspondence at Card Services P.O. Box 15298 Wilmington, DE 19850.
What Next?
Interested in getting this card? Just head on to the Chase website to start your application. You can also visit a branch near you to apply in person. The sooner you receive your card, the sooner you can start benefiting from its offers!
If you are not convinced that the Chase Freedom credit card is right for you, keep shopping around. There are a lot of other credit cards out there. So, don't settle until you find your match!
Note: There are risks involved when applying for and using a credit card. Please see the bank's Terms and Conditions page for more information.