If you are looking for a credit card with a generous rewards system and cashback feature, the Asda Credit Cards are your best bet. The Cashback card lets you earn 1% cashback for using the card at Asda supermarket and other partner merchants. The cashback will come as redeemable vouchers.
Aside from the value of cashback, cardholders can also improve their credit rating by using the card. The Cashback Start Credit Card will never let you go over your limit each month, which makes settling balances easier.
Interested in getting your hands on one of these cards? Keep reading to learn more about the requirements, fees, and perks that come with the Asda Credit Cards. This article will highlight the pros and cons of the cards, as well as, the complete contact details for customer support and other concerns.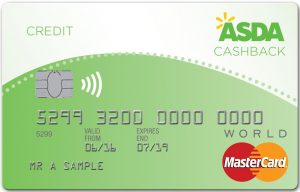 Features & Benefits of Asda Credit Cards
Cashback credit cards are super valuable cards that can give back a portion of your money every time you use the card as payment. The Asda Cashback Credit Card is worth consideration, especially if you are a high spender. Earn 1% cashback for purchases in all Asda supermarkets and fuel and 10% on Asda insurance products.
Aside from the cashback perks, cardholders can also enjoy a handful of benefits, like earning a £5 discount for Travel Money at Asda stores. In addition, this Asda credit card also has no annual fee, which can help you save on charges on top of your bill each month.
The Cashback Start Credit Card also gives you 1% unlimited cashback when you shop at Asda. It also has no annual fees, so it stands in close comparison to the Cashback card.
If you are getting a credit card for the first time, know that Asda credit cards can help you build your credit rating. As long as you pay your balances on time and stay within your limit, your rating will be good. This is also possible with Asda's low interest on purchases and balance transfers.
Asda Credit Card Cons
One of the weaknesses of this credit card is the low cashback for non-Asda purchases. You can only get 0.2% cashback for regular transactions. This is definitely low compared to other credit cards. In addition, cashback comes in the form of a voucher, which can be cash or gift cards. The Start Card also has a pretty hefty representative rate of 34.9%.
Asda Credit Card Offers
Because this credit card is powered by Mastercard, cardholders can enjoy worldwide payment acceptance in 52 countries. In addition, cardholders can get exclusive merchant discounts for as high as 25% off. Mastercard also provides holiday and travel perks including 10% off on car rental, access to lounges, and more.
The highlight of the Asda Credit Card is the cashback feature of 1% every time you use the card at Asda supermarkets. For non-Asda transactions, you can still get 0.2% cashback that can be redeemed for a voucher.
Asda Credit Card & Balance Transfers
If you have an existing credit card balance from another bank, transferring it to the Asda credit card will not be a problem. However, there are fees associated with balance transfers, which can be found at the APR & Charges section. Asda Money only charges a minimum amount for every transaction and note that late payment fee still applies to unpaid balances each month.
Asda Credit Card Eligibility
Take advantage of the Eligibility Checker found on the website of Asda Money. You will be asked personal, employment, and financial details to see if you qualify as a cardholder.
Basic requirements include being 18 years old, employed, and earning a minimum of £10,000 a year and not claiming unemployment benefits. In addition, applicants should not have any existing Country Court Judgments or Court Decrees.
Asda Credit Card Application
To apply for the Asda Credit Card, you can visit the Asda website, choose a specific card, and click on the Check Eligibility button to get started with the application. You will be asked to provide your personal information, such as complete name, email address, date of birth, contact details, residential status, and employment details.
You can also apply through phone, but calls charge a basic rate. Dial 0371 402 8914 to connect with a representative and begin your application. Note that calls are recorded.
Asda Credit Card Activation
There are two easy ways to activate your credit card. You may reach Asda Money through the customer support hotline found on the activation sticker. For online banking, you can log in to your account and simply follow the instructions found on the portal.
Asda Credit Card Limit
The minimum amount of credit issued by Asda Money is £100. Note that the maximum credit limit is subject to status. Factors that may contribute to the credit limit includes your annual income, capacity to pay and credit score. If you are employed and earning more than £10,000 a year, your chances of getting a higher credit limit are high.
Asda Credit Card APR & Charges
Annual Fee – £0
Representative Variable APR – 19.9% the Cashback card; 34.9% for the Cashback Start card
Balance Transfer Rate – 19.9% for the Cashback card (0% first 12 months); 34.9% for the Cashback Start card
Cash Handling Fee – 3% or £5
Foreign Currency Conversion Fee – 2.99%
Late Payment Fee – £12
Overlimit Fee – £12
Asda Credit Card App & Online Banking
Keeping track of your credit card transactions is easier with the online account management service. Asda Money has an online portal to help cardholders manage the card wherever they are. This can be accessed on the website of Asda Money.
To register, you need to provide the card number, your date of birth and postcode. You also need to supply a password to access the account. Once you are already registered, you can visit the website of Asda Money, key in your login details, and access your account.
Already an Asda Credit Card Customer? 
Below is some additional information on how you can better manage your credit card.
Asda Bank Address & Contact Detail
Having trouble with your credit card? Dial the Customer Contact Team at 0371 402 8914 for urgent concerns and further information. You may call this hotline Mondays to Sundays from 8:30 AM to 8 PM for weekdays, and 10 AM to 4 PM on weekends and holidays.
The Asda Money Head Office Address is at Asda House, Great Wilson Street, Leeds, United Kingdom. They are open during weekdays, working hours from 9 AM to 5 PM.
Asda Credit Card Payment Options
To settle your credit card balances, you can use direct debit card deductions, cheques, the Online Account Manager, payment centers, and telephone banking. For cheque payments, allow at least 14 working days to reach your account. Also note that Asda Money doesn't accept credit card payments, in case you have a card from another bank.
Minimum payment information: You must pay 1% of the Principal amount you owe and any other outstanding interest or charges (or £5, whatever is greater).
How to Cancel an Asda Credit Cards
If you don't find satisfaction in using the Asda Credit Cards, you can discontinue or cancel your account by dialling 0371 402 8914. Calls may be recorded and charged a basic rate.
Conclusion
Having an Asda Credit Card can give you a myriad of perks, including cashback with no required amount for spending. The Cashback Start card is perfect for first-time cardholders who are looking to build their credit score.
You can also save money from minimum and low-interest rates for purchases made in the UK and overseas. Contact Asda Money today for more information.
Not Quite the Right Card for You?
Perhaps you do not shop at Asda often enough to make an Asda credit card's rewards worthwhile for you. If that is the case, do not worry, you have plenty of other options. Check out some other credit cards available in the UK!
Disclaimer: All credit products carry risk. Be aware of these risks by reading the associated terms and conditions.