Capitec offers the Global One Credit Card powered by Mastercard. As the third-largest bank in South Africa, Capitec Credit Cards provide reliable and accessible credit offerings that are designed to cater to people from all backgrounds.
With an affordable fee and credit system, the Capitec Global One Credit Card aims to provide safe and secure transactions without the hefty price tag. The Capitec Global One Credit Card also offers a wide range of benefits for cardholders.
Interested in applying for this credit card? Keep reading to learn more. In this article, we will tell you about the finer details, as well as, how you can apply.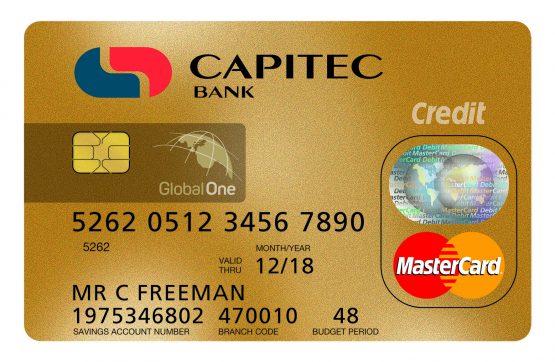 Reasons to Choose the Global One Credit Card
The main feature of the Capitec Credit Card is the ability to access all of your accounts under one credit card. This means consolidating all necessary information, thus reducing the risk of mismanaging accounts or losing vital financial information. With this, you can expect to earn 4.75% per year when you maintain a positive balance with the bank. You will also be able to access your credit card account, main savings accounts, and all other accounts in one safe place.
Another exclusive Capitec Global One card offering is it's straight versus budget purchases. Under the straight purchases offering, you may pay your full outstanding balance without racking up interest charges. For the budget option, users will be charged a minimal fee. However, the budget option allows you to pay your loans, debts, and purchases for a longer period of time.
Another highlight from this credit card is that it provides personalized credit based on your application profile and your financial status. Cardholders will be provided with a credit limit and interest charges that fit into their budget.
True to their convenience claims, the Mastercard-powered Capitec Global One Credit Card gives access to cashless payments with absolutely zero fees around the globe. There are also no currency conversion fees or foreign transaction fees for purchases made abroad.
What's more, you can enjoy free basic travel insurance when you travel abroad. The complementary insurance coverage already includes unexpected medical expenses of up to R10 million.
Why You May Not Want to Choose This Card
The only downside the Global One Credit Card may present is the absence of a rewards system for cardholders. Many companies offer rewards points and cashback options that allow cardholders to gain a certain number of points while spending. However, the Global One Credit Card does not offer this feature.
In addition, this card has a variety of fees associated with seeking services at the bank branch. So, for those without internet access and email, it could prove to be costly. It is important to check the fees and finer details of this card carefully so you can know what charges you may face.
Capitec Global One Credit Card & Balance Transfers
Balance transfers allow credit card users to consolidate their existing debts into one account. The great thing about this is that you may transfer your existing credit card balance from other credit cards.
Capitec offers its credit card consumers the chance to enjoy up to 55 days of an interest-free period. This period allows users to transfer their outstanding balances and make purchases within the allotted timeframe at no extra charge.
Likewise, you may also transfer your outstanding balance from the straight to the budget payment option, giving you a longer period to pay for your balance.
Eligibility Requirements
Interested applicants who wish to get a Capitec Credit Card must be at least 18 years of age. Applicants must also provide their latest salary slip and their stamped bank statement showing the latest 3 salary deposits. In addition, you must also have a minimum salary of R3,000 per month.
The bank may ask for additional information such as employment details, proof of address, and other essential documentation at their discretion. Married applicants must ensure that identification documents reflect their married status. A marriage certificate may also be asked to prove the union.
Capitec Credit Card Application
Application for a Capitec Global One Credit Card may only be done by visiting a Capitec branch near you. You must bring the prior documents listed.
Prior to application, interested parties may also check for their credit via the bank's online estimate. This will allow you to assess whether they qualify for the credit card or not. If you want to know more, just head to the Capitec website.
Global One Credit Card Activation
To activate the Global One Credit Card, cardholders must either visit the nearest Capitec branch or ask for the credit card ability (Capitec Mastercard SecureCode). Upon request, you will receive a page with written instructions. Simply follow this, and you may proceed with activating your credit card. However, bear in mind that activation must be done 24 hours after receiving the instructions or the text message from the bank.
For online shopping, the card is automatically activated with the default limit set at R0. To change this limit, you must sign in using your mobile account or through internet banking facilities.
Capitec Global One Credit Card Limit
The credit card limit for this card is R250,000. However, this credit limit depends on the applicant's financial standing and creditworthiness. A credit limit increase or decrease is up to the bank's discretion. However, if you show consistency in paying your dues, Capitec may increase your credit limit without needing further requests.
 APR & Other Important Charges Charges
Initiation Fee – R100
Monthly Fee – R35
Interest Rate (APR) – 10% to 20.50%, depending on the credit profile
Capitec Credit Card App & Online Banking
Capitec has a credit card app that is available both for Android and Apple users. Likewise, Capitec also has online banking facilities for cardholders. Both of these platforms serve to help users manage their accounts better. Under these systems, users can easily update their daily credit card limits for withdrawals and purchases, transfer balances, view transaction history, and pay for outstanding balances.
To access these features, users can simply key in their username and password.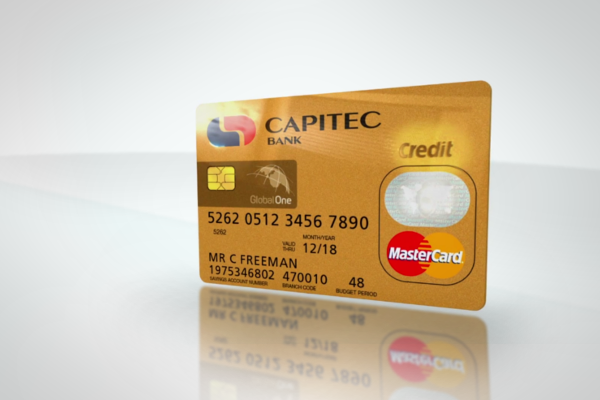 Already a Capitec Customer?
Below is some additional information on how you can better manage your credit card.
Capitec Bank Address & Contact Details
Capitec may be reached in a variety of ways. The most common of these include calling the bank's customer service hotline at 0860 10 20 43. For those outside of South Africa, you may call the bank at +27 21 941 1377. You may also chat with customer service agents at the website, send your query through the online form, or email them at clientcare@capitecbank.co.za.
For other urgent concerns, you may also visit the bank's head office located at 1 Quantum Street, Techno Park, Stellenbosch, South Africa. However, you may need to set up an appointment prior to visiting the head office.
Capitec Credit Card Payment Options
Capitec provides a wide range of credit card payment options. One of these accessible and convenient payment options is paying via the mobile app or through internet banking facilities. You may also activate the automated payment features so you can instantly pay your income to your credit card account.
The minimum payment amount is 5% of the total outstanding balance. However, paying more than the monthly requirement will ensure you are reducing your outstanding balances in a shorter period of time.
How to Cancel Your Credit Card
If you are not satisfied with a Capitec Credit Card, you may simply call the bank via its customer service hotline. However, if you wish to stop services via the app, you may simply log in through the mobile app, enter your PIN, choose 'Stop Card,' and provide the reason you are stopping or canceling the credit card.
Conclusion
Overall, a Capitec Global One Credit Card is great for individuals who value personalized rates and affordable transaction fees. With its access to all Capitec accounts, banking convenience, and reliability, this card is a perfect fit for frequent travelers. Particularly because of its comprehensive travel insurance. Apply today so you don't miss out on any more of the benefits of having a credit card.
Note: There are risks involved when applying for and using a credit card. Please see the bank's Terms and Conditions page for more information.