Individuals want a reliable, everyday credit card that gives back every time they spend. With Citizens Bank, you can achieve this goal. Their cards will allow you to maximize your benefits while experiencing the flexibility the card has to offer. If you are looking for this type of credit card, the Citizens Bank Cash Back Credit Card might be a great choice for you.
First, the Citizens Bank Cash Back Plus World Mastercard allows unlimited rewards. Under this, cardholders will be given the chance to spend and receive cashback offers with the best protection. Besides this, Citizens Bank offers a host of benefits designed to cater to all types of people.
Interested in applying for this credit card today? Check out the article below to find out more about this card.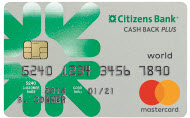 What is the Citizens Bank Cash Back Credit Card?
True to its name, the Citizens Bank Cash Back Plus World Mastercard provides unlimited cash back rewards on everyday purchases. Through this, cardholders can get 1.8% cashback on all eligible purchases.
Another great feature of this credit card is its money-saving facilities. The bank takes pride in removing fees and penalties, allowing you to reap the rewards for free. Some of the travel benefits you can avail under the World Mastercard offerings include Trip Cancellation Insurance, Trip Interruption Insurance, and MasterRental Insurance.
The best of all? Purchases and transactions are protected with their security features. With Citizens Bank, you are given Zero Liability Protection, ID Theft Protection, access to online account management, and many more benefits.
You will also be able to enjoy the fact that you don't have to pay any annual fees or foreign transaction fees. Additionally, there is no limit on how much cash back you can receive from your purchases.
Charges You Should Know About
Annual Fee – $0
APR – 16.99% to 24.99% variable APR for purchases and balance transfers (0% on balance transfers for 1st 15 billing cycles), 24.24% APR for cash advances
Balance Transfer Fee – $10 or 4% of the amount transfer, whichever is higher
Cash Advance Fee – $10 or 3% of the amount advanced, whichever is higher
Late Payment Fee – Up to $39
Foreign Transaction Fee – none
This Card is an Excellent Travel Companion
Why travel with this card? Well, why not? The Citizens Bank Cash Back Plus World Mastercard offers a host of travel benefits that you'll definitely want to take along with you on your next trip.
First, since the cash back card is powered by Mastercard, you automatically get to reap the travel benefits that Mastercard offers. These include several varieties of trip and rental insurance. In addition, you will be able to use your card at all of the 43 million locations worldwide that accept Mastercard.
In addition, this card provides cardholders with travel accident and baggage delay insurance. When your travels do not go as planned, this card will have your back.
Last, but certainly not least, there are no foreign transaction fees with this card. Unlike many other credit cards, you will not be charged more for using your card abroad. Therefore, you can carry out your holiday spending without worrying about all the extra fees.
Eligibility & Application
To qualify, you must be at least 18 years of age and must be a resident of the United States. You must also have a Social Security number to apply. Other information that will be required by the bank includes personal information such as your date of birth, contact number, address, and monthly earnings. Employment information should also be disclosed.
The Citizens Bank Cash Back Plus World Mastercard application can be completed online. This can be accessed through the online application form found on the Citizens Bank website. You may also apply personally by going to the branch of Citizen Bank that is nearest.
For further help and guidance, you may contact the bank's customer service at 1-800-684-2222 or 1-800-922-9999 at any time of the day. Otherwise, you may also reach the bank by going through a branch near you or making an appointment with their headquarters at One Citizens Plaza, Providence, RI 02903.
What Next?
The Citizens Bank Cash Back Plus World Mastercard offers a wide range of benefits such as cashback rewards and insurance coverages. With its excellent offerings, this card will be perfect for individuals who are looking to save more money. For more information and to jumpstart your application, head on over to the bank's website at your earliest convenience.
Looking for a Card with a Lower APR?
If the Citizens Bank Cash Back credit card looks great but you're not too thrilled on the higher APR it has, keep looking! There are many other credit cards out there that might better fit your needs.
Note: There are risks involved when applying for and using a credit card. Please see the bank's Terms and Conditions page for more information.