Every American wants to live the "American Dream," which includes owning a home for themselves. A house is an investment that can bring you peace of mind and offer great economic, social, and financial benefits, such as growing your wealth over time and getting tax relief.
That being said, the American homeownership environment is ever-changing and complex. Knowing which factors are most important to you can help you determine the right options for you! 
Thankfully, we have compiled all of that information in one place so that you can get up to speed with the latest shifts in the US homeownership industry and make an informed decision for your next home purchase. Here's a sneak peek into the key points covered in this article.
History of Homeownership in the US

Contemporary Trends with American Homeownership

Mortgage Rates Are Dropping

The Problems with American Homeownership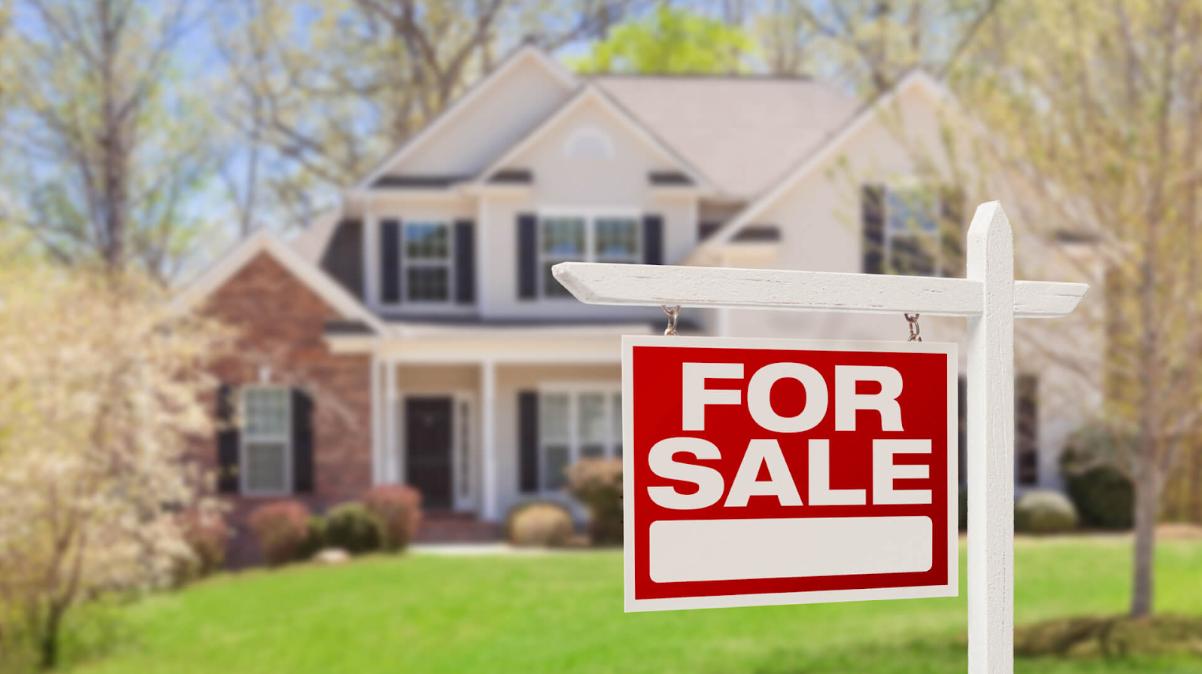 History of Homeownership in the US
American homeownership has come a long way since 1890 when individuals began keeping track of it. While the homeownership rate stood below 50% and went to as low as 44% during the great depression in 1940, the end of World War II ushered in a new era for the homeownership industry.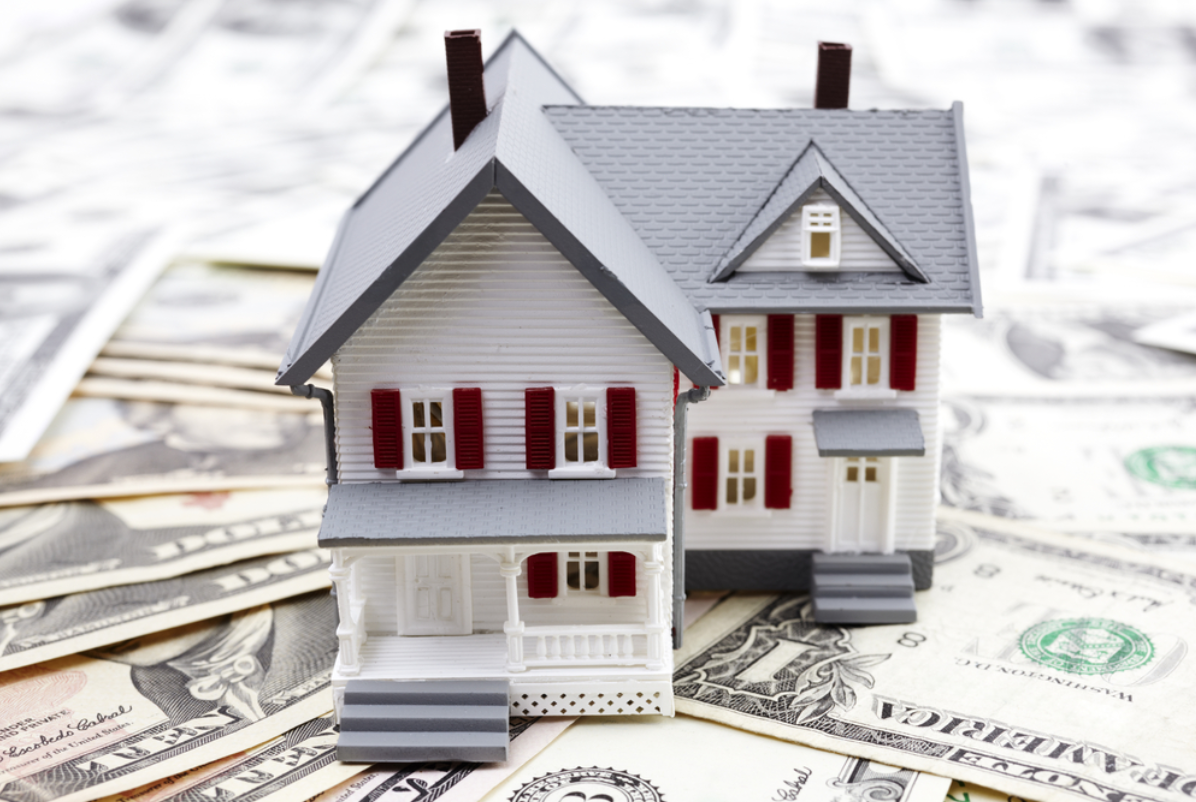 After World War II and over subsequent decades, homeownership rates grew significantly due to an increase in dual-income households, suburbanization, and falling interest rates which all contributed to an increase in access to mortgage credit.
By 1960, about 62% of Americans owned a house, and this number progressively increased as the years went by. Finally, more than a couple of decades later, in 1989, the homeownership rate reached 63%. As time progressed, it hit an all-time high of 69% in 2004, fell back to 62% in 2016, and has risen ever since.
Today, over 65% of Americans own a home of their own. During this era of development, some states have also kept particular records of their own. For example, West Virginia has had the highest homeownership rate over the past three decades, whereas the District of Columbia has always hovered at a rate below 50%. On the other hand, California only hit its all-time high in 1960.  
How Do These Numbers Compare Internationally?
Although the homeownership rate in the US is over 60%, how does this compare with other developed countries where life is as easy as it gets?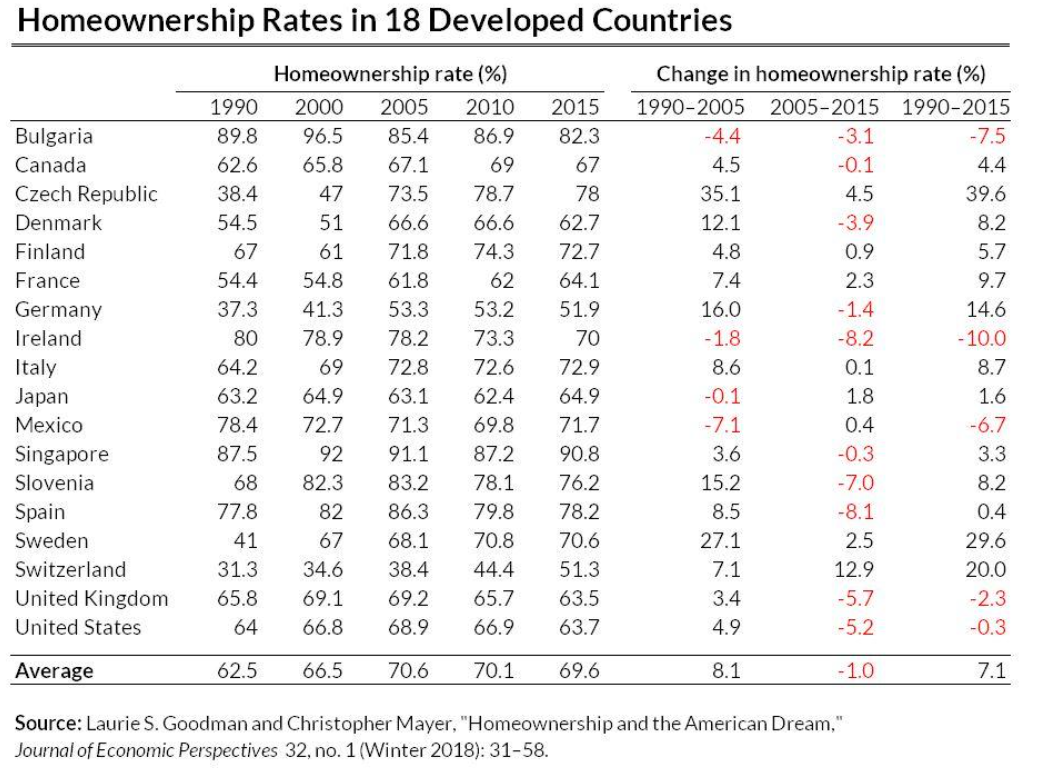 As per the data shared in the table above, the United States ranks 15th out of the 18 developed countries. While these are numbers from 1990 to 2015, it should be noted that some of these high or low rates are due to financial policies, like taxes and interest rates.
What's more, seniors between 65 and 74 have had the highest homeownership rate, which has stood steadily at 80% in recent years. The high rate of ownership can be attributed to the older age group's more stable finances and confidence in their ability to own a property for many years. That's that about statistics—let's move to contemporary trends you may work with today.
Contemporary Trends With American Homeownership
With the cost of homeownership in America on the rise, it's important to know what to expect when you go into the market firsthand. In 1960, the cost of owning a home was below $100,000. So how does this compare to today?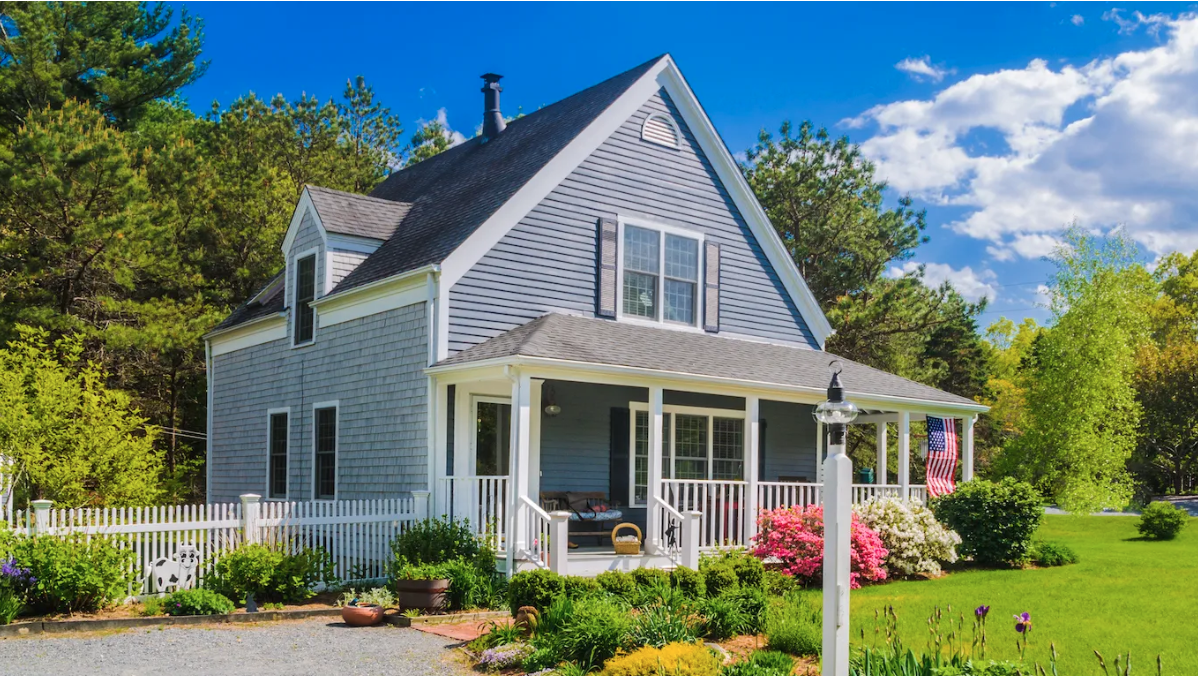 Image Source: GannettWell, this number has more than doubled, and you would expect to pay a median price of $226,800 to be a homeowner in the US. 
Having said that, it is important to note that numbers could go even higher or lower than this, depending upon where you buy it from. For instance, West Virginia has a median home cost of $166,488, North Carolina has a median price of $275,000, and Hawaii has a median price as high as $635,000.  
Every state has its own median price, so you may want to check out the cost of homes in the state you want to live in. This gives you an idea of how much to save up to buy a part of your American dream. 
Home Buying Is Getting Increasingly Digitized
There is no doubt that the 2020 lockdown made us live through the internet, with global industries switching to a digitized world. And the real estate industry is no exception to the post-pandemic era! 
Digitalization has come in the form of an increasing number of online platforms for buying houses. As a result, you are no longer required to drive around town looking for a home within your price range. Instead, you can search for homes, view photos, check the reviews, and even get an estimate instantly on an app!
What's more, 3D home tours mean you don't have to step foot into one before making a purchase, while drone videos allow you to take a live tour of the home to get a more realistic view of it. Virtual staging also exists, allowing you to make changes to a home without physically interacting with it. 
Mortgage Rates Are Dropping
The rising cost of buying a listed home in the US may be met with some good news. Mortgage rates are dropping, and homeowners are using this to their advantage by refinancing their mortgages.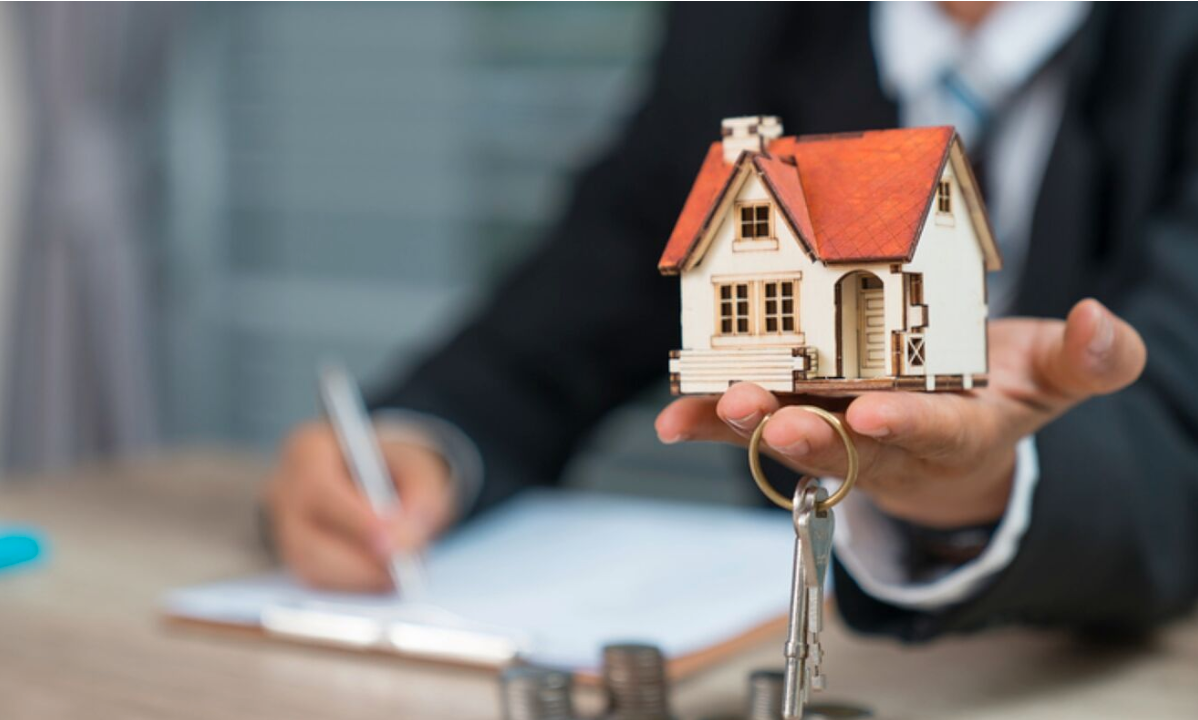 The year 2018 saw mortgage rates hit as high as 4.94%. But in the year 2020, these interest rates came crashing down thanks to efforts from the Federal Reserve to limit the effects of the pandemic. 
Mortgage rates hit a record 50-year low in 2020 and an all-time low of 2.65% in early 2021. As expected, this caused an increase in the number of mortgage applications and even coincided with an increase in mortgage refinancing activities.
This means that more people will be able to afford their loans and that more people will step into the market, likely increasing home sales by 20%-50% over the next year. 
The Rental Property Market Is Declining 
As more people move from the cities to the suburbs, the demand for rental properties declines. Why? This is because, starting in 2020, those who could afford the high rents are looking to buy homes themselves.
They find that buying homes is a better investment as it allows them to build equity. What's more, the pandemic has caused many people to move back home in order to save money and not have their housing expenses increase.
As a result, a greater percentage of young adults now live with their parents. This trend has not been seen since the Great Depression and is likely to continue going forward until the pandemic ends.
The Problems with American Homeownership
As aspiring homeowners, you and many other Americans face a number of barriers. Some of these include difficulty making a down payment, hurdles in accessing credit, or the need to repay student loans.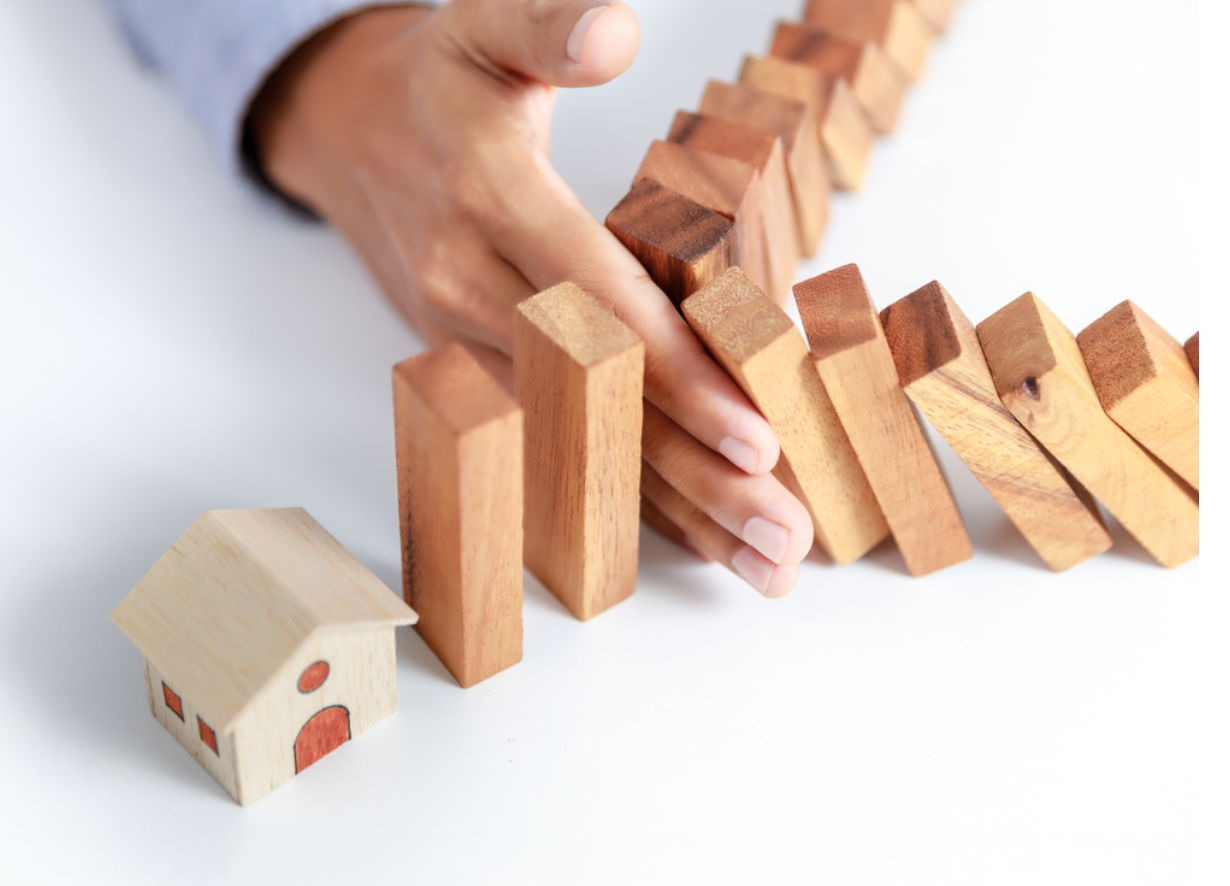 That's not all! There's another major problem that continues to plague American homeownership. That is the inability of supply to meet the demand for homes, especially in smaller cities experiencing an influx of people. 
Even though home sales totaled up to 6.9 million at the end of 2021, this huge amount wasn't enough to meet the rising demand for homes. This has, ironically, caused an increase in the demand for rental properties in smaller cities in the US.
These cities are spread across the suburban areas in the southern part of the US. Why is this the case? Well, there are two reasons! 
Hoarding Properties and the Fear of Loss
We've all heard about "hoarders"—people who have multiple possessions that they keep holding on to them instead of selling. They're doing this because the equity in their homes has increased over the years, and they are waiting for their homes to reach a certain value before selling so that they can make more money.
Why sell now and lose on future gains? What makes this situation worse is the amount of demand there is within the market and the wish for them to fully capitalize on it. This drives prices to go even higher and leave the market faster.
Secondly, for builders, the rising inflation means more cost on building materials like lumber and steel coupled with dwindling supply. Coupling this with labor shortages means the risks are too much, which ends up pushing the housing developers away.
Some other contemporary trends relating to American homeownership include the widening gap between wage growth and the cost of homes. There is also a level of disparity when it comes to homeownership rates across multiple racial classes.
Where Does the Market Stand?
All things considered, we can infer that, although homeownership is on the rise, the cost of purchasing homes has also increased. 
On the brighter side, mortgage rates have been kept low by the government, and there are more innovative ways of touring and making purchases. As a result, you enjoy lower interest rates and additional comfort in getting the home of your dreams.