Individuals looking for a worthwhile credit card may want to look at what HSBC has to offer. Among the bank's offers, the HSBC Rewards Credit Card offers various opportunities for bonuses and incentives.
The aptly named HSBC Rewards Credit Card allows cardholders to earn rewards while they spend. Rewards can be redeemed in a variety of ways, so every type of cardholder will find something they'll love.
If you are interested in getting this HSBC offer, it's best that you know the advantages and disadvantages of the card. In this article, you will find out all the important details!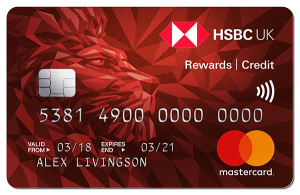 HSBC Rewards Credit Card: Rewards & Other Offers
The HSBC Rewards Credit Card allows you to earn rewards points for every purchase you make. In fact, you will get 2,500 worth of points (equivalent to £25) as a welcome gift, upon making your first transaction. You will also receive 2,500 points annually for the first five years when you spend £10,000 or more during that year. It also offers bonus points for selected establishments.
Once you accumulate enough points, you can redeem rewards at different partner merchants. In addition, you can sign up for a special offer that allows you to pay with your rewards. Redeeming points is more convenient through the Mastercard Pay with Rewards and the Pay with Rewards website. The HSBC online and mobile banking service also allows you to strictly monitor your account.
Aside from the benefits described above, the Rewards Credit Card offers 0% interest on purchases made within 6 months from card issuance. The card also offers 0% interest for 6 months on balance transfers made within 60 days from the account opening.
Charges on the HSBC Rewards Credit Card range from moderate to a little more on the high side, depending on your individual financial factors. This card offers a variable representative APR of 21.9% to 24.9%. For purchases, the annual interest rate is 21.9% to 24.9%, while cash advances have an annual interest rate of 27.9%.
However, there is no annual fee associated with using this card. Plus, the late payment fee is only £12. With the rewards program and lack of annual fee, cardholders will be able to make their money go a long way while using this card.
Upon applying, the bank will evaluate your credit background, financial information and employment details. Based on this, HSBC will give you a credit limit with a minimum of £500, although the assumed credit limit is £1,200.
HSBC Rewards Credit Card Disadvantages
One disadvantage for those interested in getting this card is that you will have to apply for an HSBC Advance Bank Account, HSBC Bank Account, or HSBC Premier Bank Account before you can get a Rewards Credit Card.
Moreover, the bank does not allow online applications from individuals from the Channel Islands or the Isle of Man. So, if you are living in one of these areas, you will have to go into a bank branch to apply in person.
Another disadvantage of this card is that there are foreign transaction fees that are applied when using it abroad. Therefore, this may not be the most ideal card for frequent travelers.
Lastly, though this card offers great rewards bonuses, cardholders have to spend £5 to earn just 1 point. With this, the power to earn points in significantly lower than what it is with other cards. If you are more of a small spender, this card might not give you the best benefits.
Are You Eligible for This Card?
To be eligible, you should have an annual income or pension of £8,500 or above (before tax deductions). You also must be a resident of the United Kingdom who is over 18 years old.
The bank also only caters to individuals with an Advance, Bank, or Premier account. The account should have a credit turnover of £1,750 per month. The account must able have been open for a minimum of 6 months.
Do You Want to Apply?
To start your application, just log onto your account, then check the full details on the HSBC website. You can also visit a branch in-person to apply. Just make sure to bring pertinent documents, including proofs of identification, residency, and income.
To get in touch with the bank, contact 03457 404 404 for existing customers and 03456 040 626 for non-HSBC customers. For branch visits, use the bank's Branch Finder feature or visit the Head Office at 8 Canada Square, London E14 5HQ.
What Next?
The HSBC Rewards Credit Card is a valuable card, especially with its convenient redemption options, as well as its online and mobile banking services. Its 0% interest on purchases and balance transfers (made within a fixed period) is also a great plus. However, if you are from the Channel Islands or the Isle of Man, then applying via a bank visit is your best option, as the online application is not available for these residents.
Not Convinced?
If you are still doubting whether or not this card is right for you, don't worry! It is good to look at a multitude of cards before you decide on one. There are more cards out there! Every card is unique and hosts various offers that different individuals will find useful. So, not every card will be right for you! It is best to shop around the credit card market before deciding on the option that is the best fit for your financial needs.
Note: There are risks involved when applying for and using a credit card. Please see the bank's Terms and Conditions page for more information.