Credit cards have varying categories that can help consumers maximize their spending and earn rewards at the same time. The Nationwide Select Credit Card might be appealing to you if you are looking for a credit card with a 0% introductory interest rate on balance transfers and a wide range of other benefits.
With its generous sign-up bonus and lower interest rate on purchases, having this card can be a total steal. Read through this article to find out about the pros and cons that come with the Nationwide Select Credit Card.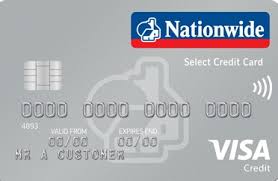 Nationwide Select Credit Card Features
Because the highlight of this credit card is the 0% intro rate for balance transfers, cardholders can pay off debt from another card without the additional expense.
The Nationwide Select Credit Card makes it easier to pay off balances with an extended 0% interest period of 12 months.
In addition to zero charges for balance transfers, you can also enjoy unlimited commission-free purchases abroad. While there are still fees associated with using this credit card abroad, the charge is definitely limited and lower compared to what other cards offer.
Another reason to love the Nationwide Select Credit Card is the no annual fee feature, which makes the card much more worth it. This card gives you all the perks without making you pay for additional fees on top of your balances.
Nationwide Select Credit Card Details
Annual Fee – £0
Variable APR and Balance Transfer Rate – 15.9% representative (up to 19.9%)
Introductory Rate on Balance Transfers and Purchases – 0% for first 12 months
Foreign Cash Fee – 2.5% (minimum £3)
Cash Advance Fee – 2.5% (minimum £3)
Balance Transfer Fee – 2.4% (minimum £5)
Late Payment Fee – £12
Over Limit Fee – £0
Nationwide Select Credit Card: The Good
This is a great credit card for people who are looking to clear off their balances from another card. It has an extended 0% balance transfer rate and purchase rate for up to 12 months.
Additionally, this card's representative APR after the intro period is within an affordable range compared to other banks' cards. With this card, you can also enjoy using its services abroad and take pride in the fact that you won't have to pay extra with annual fees.
Nationwide Select Credit Card: The Bad
The lack of a rewards system is the number one weakness of this credit card. In addition, applicants need to have existing savings accounts with Nationwide to be eligible for this card. That means it is exclusive to members, which can be a downside to many potential applicants who don't want to start open a new bank account.
Nationwide Select Credit Card Eligibility
Interested applicants can apply for this credit online, through phone, or by visiting a Nationwide branch. Note that to qualify as a cardholder, you need to be at least 18 years old, a UK resident, and employed, earning a minimum of £5,000 per year.
Additional requirements include having a Nationwide savings account, like a FlexPlus, FlexDirect, FlexStudent, FlexGraduate, or FlexOne account. For a FlexAccount, you need to have been paying at least £750 per month for the last 3 months.
Nationwide Select Credit Card Application Process
For online applications, you need to visit the Nationwide website, click on the Select Credit Card, and choose Apply Online. You will be directed to a new page where you can input your personal information like your name, address, contact numbers, and employment details.
Nationwide Select Credit Card Limit
Nationwide provides a minimum credit limit of £500 to cardholders, and your maximum limit depends on personal circumstances, including annual income, credit rating, and capacity to pay. The assumed limit is £1,200.
Nationwide Office Address and Contact Information
Visit Nationwide's main office address at Nationwide Building Society, Swindon, England.
For credit card general inquiries, you can call their hotline at 0800 055 6611 for UK residents and +44 2476 438 997 overseas.
What Next?
Overall, the Nationwide Select Credit Card is best suited for individuals with balances from another credit card. With its lower interest rate on purchases and foreign transactions, cardholders can definitely save tons of money.
Note: There are risks involved when applying for and using a credit card. Please see the bank's Terms and Conditions page for more information.