If you're looking for a reliable credit card that can provide you with the lowest possible introductory rates, then the Wells Fargo Platinum Visa Credit Card is an excellent choice. Presenting impressive features and benefits, this card stands as the perfect partner for you to manage your finances.
Whether you're looking for ways to control your finances or are in need of a credit card that will help you pay off your credit card debt quickly, Wells Fargo Platinum Visa Credit Card is something you should not miss out on.
Interested to know more about this card? Read on to know its features and benefits, as well as, how you can apply.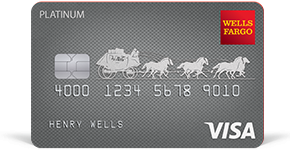 Highlights of the Wells Fargo Platinum Visa Credit Card
The Wells Fargo Platinum Visa Credit Card offers a broad range of striking features and benefits. Among its most remarkable features include 0.00% introductory APR on purchases for 18 months, as well as, another 0.00% introductory APR on qualifying balance transfers for 18 months.
Moreover, holders of the card can also enjoy $0 in annual fees. Further, users can access reliable insurance on their cellular devices with up to $600 protection against covered damage or theft when you pay your monthly cell phone bill via your Wells Fargo Platinum Visa card.
Additionally, the Wells Fargo Platinum Visa Credit Card also lets users enjoy more secured transactions with its Zero Liability protection, which saves users from liability in case of unauthorized transactions, so long as they report them promptly.
This card also offers a service called My Money Map, which presents tools that will help users manage their spending and create a budget with ease. This tool can be extremely helpful for cardholders that may struggle to use their credit card responsibly.
The Details of the Wells Fargo Platinum Card
Annual fee: $0
APR: 17.49% to 26.99% (variable), after the promotional period
Balance transfers fee: $5 or 3%
Late payment fee: Up to $37
Cash advances fee: Either $10 or 5%
Foreign Currency Conversion Fee: 3%
Drawbacks To Note
Before you apply for this card, it is important to note that you may not love everything about it. Although the Wells Fargo Platinum Visa Credit Card presents a broad spectrum of advantages, the card still has a few things that need further improvement. This includes its lack of a rewards program and a potentially high APR charge of 17.49% to 26.99% (variable) after the introductory promotion.
In addition, traveling with the Wells Fargo Platinum card can be quite costly. The 3% conversion fee adds up quickly and, before you know it, you have paid much more than you would with another card. Therefore, this card is not advised for frequent travel use.
Eligibility and Application Process
To apply, each applicant must meet the bank's set of given requirements. This includes being a citizen or a permanent resident of the U.S. with a valid Social Security Number. Your Social Security Number must not have any restrictions.
Interested individuals can visit the Wells Fargo website to apply. Simply click on the site's credit card category, click on your preferred type of credit card, and push the "Apply Now" button located below the card's details.
During the process, applicants will be asked to provide their name, address, date of birth, and other information that will allow the bank to identify them. Other identifying information, such as a driver's license, may also be asked by the bank for more accurate identification. From there, the bank will review the information you have provided to see if you are qualified.
Understanding Credit Limits
If you are approved for the card, the credit limit you receive will be based on your own individual financial factors. These factors include your credit score and any outstanding debt you may have.
If you do not initially receive a high credit limit, don't worry. It is possible to raise your credit limit over time. To do this, you simply need to use your credit card responsibly, maintain a good credit score, and avoid accumulating debt. All of these things help prove that you are financially competent and can handle the privileges of a higher credit limit.
Sometimes credit limit increases are granted automatically to an account and sometimes cardholders need to ask for an increase. If you would like to ask the bank for a credit increase, make sure all of the above factors are in good standing beforehand.
Wells Fargo Address and Contact Information
If you have any questions about banking, mortgage, and investment services, feel free to contact Wells Fargo at 1-800-869-3557. The service is available 24 hours a day, 7 days a week.
What Next?
Overall, the Wells Fargo Platinum Visa Credit Card is a worthy card for people who are struggling with huge purchases or high-interest debts. Don't hesitate to contact the bank to learn more about this great credit card today.
Disclaimer: All credit products carry risk. Be aware of these risks by reading the associated terms and conditions.