People that are interested in applying for flexible and reliable credit cards will certainly benefit from the wide selection of cards that Bank of America has to offer. Besides the extensive product offerings, the bank also provides privileges designed to complement every type of spender.
Whether you are a savvy saver or simply a frequent world traveler, Bank of America has a card for you. From getting access to cashback offers to travel rewards, you can choose from a variety of cards that will cater to your needs.
Interested in applying for a Bank of America credit card today? Here are some things you need to know.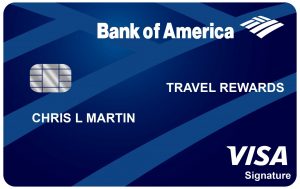 Bank of America Credit Cards
Bank of America takes pride in being a leading financial institution offering 23 credit cards across 7 categories. Powered by Visa and Mastercard, Bank of America allows you to see what you can do with its varied offerings. You can choose from cash rewards cards, travel rewards cards, airline rewards cards, lower interest rate cards, building credit, points rewards, and cards for students.
The great thing about their credit cards is that you can enjoy exclusive perks and privileges with little to no annual fees. Most of their credit cards also offer a low introductory APR alongside bonus points, which can be redeemed for airline miles, travel privileges, cashback offers, and more.
Bank of America Credit Card Offers
Each credit card from the Bank of America comes with introductory offers for new cardholders. The most popular offerings include a $200 cash rewards bonus offer on Cash Rewards Card, 25,000 bonus points offer equivalent to $250 for the Travel Rewards Card, and 50,000 online bonus points offer equivalent to $500 on Premium Rewards Card.
Some of the credit cards also offer airline miles points, including the Alaska Airlines Visa, which gives 40,000 bonus mile points and Alaska Airline's famous companion fare offer. You can also get the Spirit Airlines World Mastercard, which has a limited-time offer that allows cardholders to earn up to 30,000 bonus miles.
Those who enroll in the bank's Preferred Rewards program will also be given the chance to get a 25% increase in their rewards bonus points.
Bank of America Balance Transfer
Customers can experience faster and more efficient debt consolidation through balance transfer options. This feature allows you to transfer existing credit card debt to your current Bank of America credit card and manage it from the same account.
The Cash Rewards and BankAmericard products from Bank of America both have an introductory 0% APR valid from 60 days of account opening. After this, the balance transfer fee will revert to 3% for the BankAmericard and 16.24% to 26.24% for the Cash Rewards card.
Eligibility
To be eligible for a Bank of America credit card, you must at least be 18 years of age and must be a resident living in the United States. Otherwise, you must be at least 21 years old if you are a permanent resident of Puerto Rico. In addition, you must also have a regular income.
Application Process
Choose from a wide array of credit card types found on the Bank of America website. The application process may be coursed online, where you may simply fill out the online application form. For further guidance and inquiries, you may also call the Bank of America hotline or set an appointment in your preferred branch.
The online application form will require you to disclose your personal information, including your address, contact number, employment and salary details, and many more. Once you have filled out your application online, you will get an immediate response in as little as 60 seconds.
Activation Process
Once your credit card is approved, you will be given an online banking ID and passcode. If you prefer to use the online banking facility, you can easily use the credentials provided to sign in. For those who are not yet enrolled via online banking, you may enroll and activate your card in an ATM facility.
Once you have activated your card, the bank will confirm your identity and verify your card details.
Bank of America Credit Card Limit
The minimum credit limit of a Bank of America credit card is $300. However, this credit limit can increase depending on the type of credit card you select. On top of this, the credit limit may also be increased or decreased by the bank depending on the applicant's creditworthiness, financial capabilities, and other relevant factors. To request an increase, you may course your message via the website or call the bank.
Bank of America Credit Card Details
Annual Fee – $0 except for the Premium Rewards card ($95), Alaska Airlines Visa ($75), Spirit Airlines World Mastercard ($59 after first year), Allegiant World Mastercard ($59), Amtrak Guest Rewards World Mastercard ($79), Air France KLM World Elite Mastercard ($89), Sonesta World Mastercard ($75 after first year), Virgin Atlantic ($90), and Asiana Visa Signature ($99)
APR – 15.24% to 26.24%
Interest Rates

Balance Transfers – 16.24% to 26.24%
Cash Advances – 19.24% to 27.24%

Balance Transfer Fee – 3% of each transaction (minimum of $10)
Cash Advance Fee – 3% of each transaction (minimum of $10)
Late Payment Fee – Up to $39
Returned Payment Fee – Up to $28
Bank of America Credit Card App & Online Banking
For hassle-free account management, individuals may visit both the Bank of America online channel or the credit card application. The app is available for both iPhone and Android users. Individuals who prefer the Internet or online banking may access the Bank of America page through their browser. Both channels serve as means of managing accounts, secure banking transactions, paying and transferring bills, and much more.
Already a Bank of America Credit Card Holder?
Below is some more information on how you can better manage your credit card.
Bank of America Address, Contact and Customer Service
Bank of America can cater to concerns and queries in a variety of ways. For one, the bank has a customer service hotline, which can be reached at 1-800-432-1000. This number can also be contacted to schedule an appointment with a specialist, to share your feedback, or for help and information on credit cards and ATM facilities. Company representatives are available from Mondays through Fridays from 8 am to 9 pm, Saturdays from 8 am to 8 pm, and Sundays from 8 am to 5 pm. You may also chat or connect with them through social media platforms.
For corporate concerns or other urgent matters, you may course your feedback and questions to the corporate address of the Bank of America located at the Bank of America Corporate Center, 100 North Tryon Street, Charlotte, NC 28255. Otherwise, you may simply go to a branch near you.
Online Login
To successfully log in to your account, all you need to do is enter the credentials provided by the bank. This includes your online banking ID and passcode.
Payment
To make credit card payments, you may choose from 5 options, including online channels, ATM credit card payments, paying by phone, dropping of payment at a financial center, or through the mail. The institution requires paying the minimum balance to keep enjoying the benefits.
How to Cancel Your Bank of America Credit Card
For cardholders who wish to close their Bank of America credit card, you may visit the nearest financial center near you to speak with a personal banker. You may also call the company at 800-732-9194. You may also submit your request for closure addressed to Bank of America, PO Box 982234, El Paso, TX 79998-2234.
The Bottom Line
Bank of America credit cards are designed to cater to people with different needs and lifestyles. With inviting rewards and offers, the Bank of America credit card products are definitely worth looking into.
Disclaimer: All credit products carry risk. Be aware of these risks by reading the associated terms and conditions.